>

Dr. Vicky Spring Love

Financial Coach, Author and Speaker

Quick Links:

Connect with Dr. Vicky Online: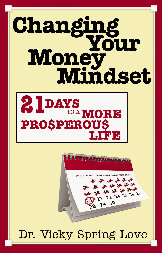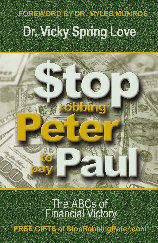 Endorsements
"Min. Vicky Love is a woman of principles and grace. She is a dynamic writer, author, teacher and preacher. She also has great wisdom and knowledge as it relates to finances. She is a kingdom builder who uses kingdom principles to motivate us to walk in victory in every area of our lives."
"AWESOME, SPIRIT FILLED BOOK!! I finished reading the book a week ago!! I have been so busy telling everyone to order it that I forgot to tell you how phenomenal your book is. Stop Robbing Peter to Pay Paul is a Bible-based guide on being a better steward of God's money. It's an easy read! I am going to recommend it to everyone I know!! Thank you for such a great work!"
"I'm reading your book, Stop Robbing Peter to Pay Paul. It is fantastic! It's just what the Lord ordered for me at this moment in my life. I think you've done a phenomenal job. It's fabulous, it's dynamic, it's accurate, it's truthful, yet it's kind. To be honest with you, I could not put your book down. I read it from the acknowledgements all the way up to page 60 without putting it down!"
"I found Changing Your Money Mindset to be a profound economic manual. Dr. Love empowers the reader to employ sound, practical, spiritual strategies that will enable them to amass wealth and sow bountifully into God's kingdom."
"In Stop Robbing Peter to Pay Paul, Vicky Spring Love presents one of the most profound, yet simple approaches to this essential subject.... I encourage anyone who wants to have a fundamental perspective of the issue of finances to peel the wisdom from these pages and experience the fruitful life and prosperity that results from applying these time-tested precepts of God."
"Internalizing every single word from Changing Your Money Mindset is a sure way to a successful spiritual surgical correction of a self-imprisoned poverty-trapped mindset. This book x-rays your thoughts, feelings and character to dissolve doubt and jumpstart your faith. It will restructure your spirit, soul and body thus ushering you into the sanctuary of prosperity liberation."
"Changing Your Money Mindset is an excellent book. It has really helped me to get my finances in order. Dr. Love has given us some practical things we can do "right now" to change our lives financially and spiritually through her '21 days to a more prosperous life'. I would recommend this book to anyone who might be struggling financially. This is definitely a book we all need to read."
"This book is great! I tell everybody about it. Generations of debt were broken in my life by the words of this book."